Cherry Squares: Butter, or spray with a non-stick vegetable spray, a 9 inch (23 cm) square baking pan.
Graham Cracker Crust: In a medium-sized bowl combine the graham cracker crumbs, sugar, and melted butter. Remove about 2/3 cup (80 grams) of the crumbs, cover, and set aside to be used as a garnish. Press the remaining crumb mixture evenly over the bottom of the prepared pan. Cover with plastic wrap and place in the refrigerator to firm up while you make the filling.
Marshmallow Filling: Place your mixing bowl and wire whisk in the freezer for about 15 minutes. Then put the cold cream, sugar, and vanilla extract in the cold bowl and beat until soft peaks form. Fold in the miniature marshmallows. Pour the filling over the graham cracker base and smooth the top. Cover and place in the refrigerator for three to four hours, or even overnight. To serve, use a sharp knife and cut into squares. Place a large dollop of cherry pie filling on each square and sprinkle with some of the remaining graham cracker crumbs. Leftovers can be covered and stored in the refrigerator for three to four days.
Makes about 16 - 2 inch (5 cm) squares. Preparation time 45 minutes.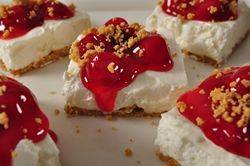 Graham Cracker Crust:
2 cups (200 grams) graham cracker crumbs or crushed digestive cookies (you will need about 14 graham crackers)
1 tablespoon (15 grams) granulated white sugar
1/2 cup (113 grams) unsalted butter, melted
Marshmallow Filling:
1 cup (240 ml) cold heavy whipping cream (contains 35-40% butterfat)
1 tablespoon (15 grams) granulated white sugar
3/4 teaspoon pure vanilla extract
2 1/2 cups (170 grams) miniature marshmallows (homemade or store bought)
Cherry Topping:
1 - 21 ounce (595 grams) can cherry pie filling