Pumpkin Bars: Preheat your oven to 350 degrees F (180 degrees C) and place the oven rack in the center of the oven. Butter, or spray with a nonstick vegetable spray the bottom and sides of a 9 x 13 inch (23 x 33 cm) baking pan. Next, line the pan with foil (shiny side facing up) and then butter the foil.
Shortbread: Place the pecans, flour, and salt in the bowl of your food processor and process until the pecans are finely ground.
Then, in the bowl of your electric stand mixer, fitted with the paddle attachment (or with a hand mixer), beat the butter until smooth. Add the sugar and beat until light and fluffy (about 2 minutes). Beat in the vanilla extract. Scrape down the sides and bottom of your bowl as needed. Add the flour mixture and beat just until the batter starts to clump together. Press the dough firmly and evenly onto the bottom of your prepared pan. Lightly prick the surface of the shortbread with the tines of a fork. Bake for about 18 to 20 minutes or until the shortbread is set and is golden brown around the edges. Remove from oven and place on a wire rack to cool.
Pumpkin Filling: In a large bowl, whisk the eggs. Add the pumpkin, sugars, ground spices, and salt and whisk to combine. Gradually stir in the cream. Pour the filling over the pre baked crust and bake for about 30 - 40 minutes, or until the filling is set in the center and has a shiny sheen. Remove from oven and place on a wire rack to cool.
Run a knife around the inside edges of the pan. Lift the pumpkin bars from the pan by holding onto the edges of the aluminum foil. Place on a cutting board, peel back the aluminum foil, and cut into bars or squares. The bars can be covered and refrigerated for up to three days. Serve chilled or at room temperature.
Garnish: Whip the cream with the sugar until stiff peaks form. Place the whipped cream in a piping bag fitted with an open star tip and pipe a small rosette of cream on top of each pumpkin bar.
Makes 32 pumpkin bars.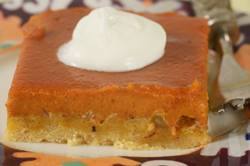 Shortbread:
1/2 cup (50 grams) pecans, coarsely chopped
1 cup (130 grams) all purpose flour
1/4 teaspoon kosher salt
1/2 cup (113 grams) unsalted butter, room temperature
1/2 cup (110 grams) light brown sugar
1/2 teaspoon pure vanilla extract
Pumpkin Filling:
3 large eggs, at room temperature
2 cups (425 grams) pure pumpkin puree (or 1 - 15 ounce can)
1/2 cup (100 grams) firmly packed light brown sugar
1/4 cup (50 grams) granulated white sugar
1 teaspoon ground cinnamon
1/2 teaspoon ground ginger
1/4 teaspoon kosher salt
1 cup (240 ml/grams) heavy whipping cream (cream with a 35-40% butterfat content)
Garnish: (optional)
1/2 cup (120 ml) cold heavy whipping cream
1/2 - 1 tablespoon (7 - 15 grams) granulated white sugar, or to taste