Tweedie Squares: Preheat your oven to 350 degrees F (180 degrees C). Butter or spray a 9 inch square (23 cm) baking pan with a non stick vegetable spray.
Bottom Layer: In a separate bowl whisk the flour with the baking powder and salt.
In the bowl of your electric mixer, or with a hand mixer, beat the butter and sugar until light and fluffy. Add the eggs, one at a time, beating well after each addition. Beat in the vanilla extract. Scrape down the sides and bottom of your bowl as needed.
With the mixer on low speed, alternately add the flour mixture (in three additions) and milk (in two additions), beginning and ending with the flour. Then gently fold in your grated chocolate (do not over mix). Pour the batter into your prepared pan, smoothing the top with an offset spatula or the back of a spoon. Bake for about 18 - 20 minutes, or until a toothpick inserted into the center of your cake just comes out clean (the cake will just be starting to pull away from the sides of your pan). Remove from oven and place on a wire rack to cool completely.
Middle Layer: In your electric mixer, or with a hand mixer, beat the butter until smooth and creamy. Add the custard powder, vanilla extract, and powdered sugar and beat until the mixture is smooth and spreadable. Add a little milk or cream if the mixture is to thick and doesn't spread easily. Spread the filling over the bottom layer, cover, and refrigerate until firm (about 30 minutes).
Top Layer: Chop the chocolate into small pieces. Then, in a heatproof bowl, placed over a saucepan of simmering water, melt the chocolate and shortening (or butter). Spread the melted chocolate evenly over the filling and refrigerate for about 10 minutes or just until the chocolate has set. Using a sharp knife, cut into squares.
Yield: Makes about 25 squares.
View comments on this recipe on YouTube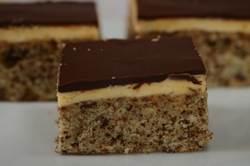 Bottom Layer:
1 1/3 cups (175 grams) all purpose flour
1 1/2 teaspoons (6 grams) baking powder
1/4 teaspoon (1 gram) salt
1/2 cup (113 grams) unsalted butter, at room temperature
2/3 cup (135 grams) granulated white sugar
2 large eggs, at room temperature
1 teaspoon (4 grams) pure vanilla extract
1/2 cup (120 grams) milk, at room temperature
2 ounces (60 grams) semi sweet chocolate, grated
Middle Layer:
1/3 cup (75 grams) unsalted butter, at room temperature
2 tablespoons (20 grams) dried custard powder (Bird's) or vanilla pudding powder
1/2 teaspoon (2 grams) pure vanilla extract
1 1/2 cups (175 grams) powdered sugar (confectioners or icing) sugar, sifted
1 - 2 tablespoons milk or cream
Top Layer:
4 ounces (120 grams) semisweet chocolate
1 tablespoon (13 grams) shortening or butter