Savory Oven Pancake: Preheat your oven to 425 degrees F (220 degrees C) and place the rack in the center of the oven. Place two - 5 inch (base of skillet) (12.5 cm) cast iron skillets in the oven while it's preheating.
When the oven is at the correct temperature, place 1/2 tablespoon (7 grams) of butter in each pan. Return to oven and let the butter melt.
Meanwhile, in your food processor or blender (can also use an electric mixer) place all the batter ingredients. Process for about one minute, scraping down the sides of the bowl as needed. Remove the pans from the oven and divide the batter between the two pans. If desired, sprinkle the tops with some chives (or chopped green onions) and grated gruyere, cheddar cheese, or parmesan. Bake for about 16 minutes or until the pancakes have puffed and are golden brown and crisp, yet the centers are still soft. Do not open the oven door until the end of the baking time or they may collapse.
While the pancakes are cooking fry the bacon and cook the eggs. As soon as the pancakes come out of the oven, place the bacon and eggs in the center of each pancake. Serve immediately, with or without maple syrup.
Serves 2.
View comments on this recipe on YouTube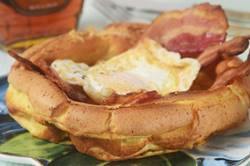 Savory Oven Pancake:
3 large (150 grams) eggs, at room temperature
1/2 cup (120 ml/grams) milk, at room temperature
1 tablespoon (13 grams) unsalted butter, melted
1/2 cup (65 grams) all-purpose flour
1/4 teaspoon (1 gram) salt
1/4 teaspoon (1 gram) pepper (optional)
1 teaspoon (5 grams) granulated white sugar
Garnish: (optional)
grated gruyere cheese, cheddar, or parmesan
finely chopped chives or green onions
Cooked Eggs
Cooked slices of bacon