Strawberry Cheesecake: Preheat oven to 350 degrees F (180 degrees C) and place your oven rack in the center of the oven. Lightly butter, or spray with a non stick vegetable spray, an 8 inch (20 cm) springform pan. Place the springform pan on a baking sheet.
Graham Cracker Crust: In a bowl stir the graham cracker crumbs with the sugar and melted butter until all the crumbs are moistened. Press the crumbs evenly over the bottom of your pan. Bake for about 6-8 minutes or until set. Remove from oven and place on a wire rack to cool.
Reduce your oven's temperature to 300 degrees F (150 degrees C).
Cheesecake Filling: In the bowl of your electric mixer (or with a hand mixer), beat the cream cheese on low speed until creamy and smooth. Add the sugar and salt and beat until combined. Scrape down the sides of the bowl as needed. Add the eggs, one at a time, beating until incorporated. Add the vanilla extract, lemon zest, and sour cream and beat until incorporated. Pour the filling over the crust.
Bake for about 50 - 55 minutes or until firm yet the center of the cheesecake is still a little wet. Remove from oven and place on a wire rack to cool. Carefully run a knife or spatula around the inside edge of your pan to loosen the cheesecake (this helps to prevent the surface from cracking as it cools). Let cool completely and then cover and chill in the refirgerator for a couple of hours.
Strawberry Topping: Place the thawed strawberries and sugar in a food processor or blender and process until smooth (can also use an immersion blender). (You will have about 1 cup (240 ml) of strawberry sauce.) Place the sauce in a medium sized saucepan and heat until warm. Meanwhile, in a small cup, sprinkle the gelatin over the cold water and let stand about 2-3 minutes or until the gelatin has become soft and spongy. Add the gelatin to the warm strawberry sauce and heat (over low heat), stirring constantly, until the gelatin has dissolved. Remove from heat and let the strawberry sauce cool to room temperature. As it cools, skim off any foam that may formed. Then slowly pour the strawberry sauce over the top of the cheesecake. Cover and place in the refrigerator for several hours, preferably overnight, before serving.
Serves about 10-12.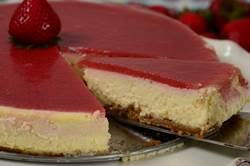 Graham Cracker Crust:
1 cup (100 grams) graham cracker (wafer) crumbs or crushed digestive biscuits
1 tablespoon (15 grams) granulated white sugar
5 tablespoons (70 grams) butter, melted
Cheesecake Filling:
2 - 8 ounce packages (450 grams) full fat cream cheese, at room temperature
2/3 cup (135 grams) granulated white sugar
1/8 teaspoon salt
2 large eggs, at room temperature
1 teaspoon pure vanilla extract
1/2 teaspoon freshly grated lemon zest (outer yellow skin) (optional)
1/2 cup (110 grams) sour cream, at room temperature (I like to use light or reduced fat sour cream)
Strawberry Topping:
8 ounces (1/2 pound) (225 grams) unsweetened frozen strawberries, thawed
3 tablespoons (40 grams) granulated white sugar, or to taste
1 teaspoon (3 grams) unflavored powdered gelatin
1 tablespoon cold water