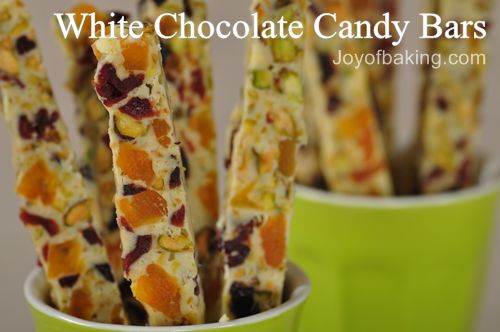 White Chocolate Candy Bars combine melted white chocolate with dried fruits and chopped nuts. An easy confection to make as the ingredients are just mixed together, spread into a pan, and left to set. This recipe makes an 8 x 8 inch (20 x 20 cm) pan of squares. You can cut them into any size you like, but I find either thin long bars (shown in picture) or small squares to be very nice.
White Chocolate has always been the mysterious chocolate, treated differently because according to the FDA, 'officially' it is not chocolate at all. That is because 'chocolate' must be made of cocoa fat (cocoa butter) and nonfat dry cocoa solids, an ingredient that is not found in white chocolate. So here we are, everyone thinks its chocolate, calls it chocolate, but its really isn't chocolate, its "white confectionery coating". The one thing we must do is to choose our white chocolate carefully, making sure that the label states that it contains cocoa butter, sugar, milk solids, vanilla, and lecithin. White chocolate needs cocoa butter as this is what gives it that sweet yet mellow flavor and smooth and creamy texture. Inferior brands use vegetable fat as its substitute and their flavor is very sweet and artificial tasting. Another tell tailed sign its not good white chocolate is its color. White chocolate containing cocoa butter is pale yellow to ivory colored, whereas white chocolate containing vegetable fat is pure white in color. My favorite brands are Lindt and Callebaut.
Dried fruits are added to the melted white chocolate and while I have used dried cranberries (or cherries) and apricots you can use other dried fruits. Dried fruits have come a long way in recent years in both availability and quality but there are a few things to keep in mind when choosing your fruit. First, try to buy in bulk from a grocery store or natural food store that has a high turnover. Not only will the fruit be fresher, but you can see, smell, feel, and often taste the fruit to make sure it is fresh and of high quality. Pre-packaged fruit can also be excellent but it is harder to tell the quality of the fruit through the plastic bag. Make sure to check the expiration date on the bag. Always look for dried fruit that is plump, moist, and has good color. Never buy fruit that is dried out or moldy. There is a debate about whether to buy 'sulphured' or 'unsulphured' dried fruits. Some like to buy 'sulphured' which means that it has been treated with a sulphur dioxide solution. This preserves the fruit's bright color and makes the fruit very soft and moist. The downside is that some people can taste the preservative while others are allergic. Of course, 'unsulphured' means it has not been treated before it is dried and some say the flavor of untreated dried fruits is far superior. The downside is that the fruit's color may be slightly faded looking, especially dried fruits (like apples, pears, and bananas) that oxidize quickly.