Banana Cake: Preheat oven to 350 degrees F (180 degrees C) and place rack in the center of the oven. Butter and flour, or spray with a non stick vegetable/flour spray, a 9 inch (23 cm) round cake pan.
In the bowl of your food processor, place the bananas, sour cream, and vanilla extract. Process just until blended and smooth. Add the eggs and process until combined.
In the bowl of your electric mixer, with the paddle attachment, (or with an electric hand mixer) combine the sugar, flour, baking powder, baking soda, salt, and ground cinnamon. Add the softened butter, along with half the banana mixture, and beat on low speed just until the dry ingredients are moistened. Increase the mixer speed to medium (on high if using a hand mixer) and beat the batter for 1 1/2 minutes. Scrape down the sides of the bowl as needed. Add the remaining banana mixture in two additions, beating well after each addition. Pour the batter into the prepared pan, smoothing the top, and bake for about 35 to 40 minutes or until a toothpick inserted in the center of the cake comes out clean.
Remove from oven and let cool on a wire rack for about 10 minutes before removing the cake from the pan. When completely cooled, frost with the Chocolate Fudge Frosting.
Chocolate Fudge Frosting: Melt the chocolate in a heatproof bowl placed over a saucepan of simmering water (or in the microwave). Remove from heat and let cool to room temperature.
In the bowl of your electric mixer, or with a hand mixer, beat the butter until smooth and creamy (about 1 minute). Add the sugar and beat until it is light and fluffy (about 2 minutes). Beat in the vanilla extract. Add the melted chocolate and beat on low speed until incorporated. Increase the speed to medium-high and beat until frosting is smooth and creamy and of spreading consistency (about 2 -3 minutes). Frost the top and sides of the cake. Can garnish with dried banana chips. Can be stored at room temperature or in the refrigerator for several days.
Makes one - 9 inch (23 cm) cake.
View comments on this recipe on YouTube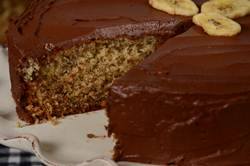 Banana Cake:
2 large ripe bananas
1/3 cup (80 ml) sour cream, room temperature
1 1/2 teaspoons pure vanilla extract
2 large eggs, room temperature
1 cup (200 grams) granulated white sugar
2 cups (230 grams) cake flour
3/4 teaspoon baking powder
1 teaspoon baking soda
1/2 teaspoon salt
1/4 teaspoon ground cinnamon (optional)
10 tablespoons (140 grams) unsalted butter, softened to room temperature
Chocolate Fudge Frosting:
3 ounces (90 grams) unsweetened chocolate, coarsely chopped
1/2 cup (113 grams) unsalted butter, room temperature
1 cup (120 grams) confectioners (powdered or icing) sugar, sifted
1 teaspoon pure vanilla extract