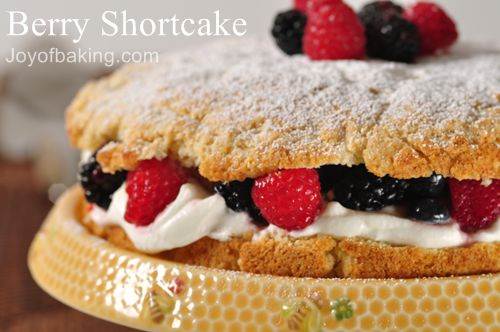 Berry Shortcake is similar to Strawberry Shortcake, only raspberries, blackberries, and blueberries are used along with the strawberries. There are three parts to this Berry Shortcake; a scone (or biscuit), lightly sweetened berries, and softly whipped cream. Although each component can be made beforehand, it is best to assemble this dessert just before serving.
The first thing we need to do is to make the scone. For this recipe we are making one large cream scone that is baked in a cake pan. When making this scone be sure to have the butter cold, to add the liquid to the dry ingredients all at once, and then to mix everything together quickly and lightly. Following these simple instructions will result in a buttery scone with a tender and flaky crumb that absorbs all the sweet juices released by the berries.
Next, the berries, which need to be in season for maximum flavor. Look for strawberries that are bright red, plump, and firm, with no white or green "shoulders" at the stem end. The green leaf-like cap or hull should still be attached and it should not be brown or wilted. Raspberries should be a deep red color, and plump and juicy without their cores attached. If the cores are still attached the raspberries were picked too early and will be sour. Blackberries should be black, firm, plump, without their stems attached. If the stems are still attached the blackberries will be sour. Blueberries should be firm, plump, fragrant, and dark blue with a dusty white bloom. The white bloom is the blueberry's natural protection against the sun and is a sign of freshness. No matter what the berry, there should be no soft spots, bruising or mildew. Always check the underside of the containers to make sure there are no squashed berries or juice (sign of overripe berries). If not using immediately store in a single layer on a paper towel-lined tray in the refrigerator for a couple of days. About an hour before assembling the shortcake; lightly wash the berries, removing the stems from the strawberries. Then cut or slice the strawberries into bite size pieces. Place in a large bowl, add the remaining berries and stir in the sugar. Set aside to macerate at room temperature for about 30 to 60 minutes as this will soften the berries and allow their juices to be released.
And finally, the Cream. Cream is the fat that rises to the top of whole milk. It has a smooth, satiny texture and is labeled according to its butterfat content (heavy to light). The best cream to use for this Berry Shortcake is Heavy Cream or Heavy "Whipping" Cream which means it has a 36 - 40% butterfat that will double in volume when whipped and hold its form. Because of its superior flavor, I recommend using an organic brand of heavy whipping cream. The recipe given here will let you make the whipped cream several hours in advance of serving.