Cream Cheese Pastry: In the bowl of your electric stand mixer, fitted with the paddle attachment (or with a hand mixer), beat the butter, cream cheese, and sugar until light and fluffy. Add the flour and salt and beat until incorporated. Divide the pastry into four equal portions (170 grams each). Flatten each portion into a round disk, wrap in plastic, and refrigerate for about one hour or until firm (can be chilled overnight).
Preheat your oven to 375 degrees F (190 degrees C). Have ready two - 24 cup miniature muffin pans, preferably non stick.
Remove one round of the pastry from the refrigerator. On a lightly floured surface, roll the pastry until it's about 1/8 inch thick. Using a round or fluted cookie cutter, that is slightly larger than the muffin cups, cut the pastry into rounds, and then gently fit the rounds into the muffin tins. Gather up any scraps of pastry and re-roll. (Each portion will make about 12 rounds of pastry.) Repeat with the other three disks of chilled pastry. Place the pastry lined muffin tins in the refrigerator to chill while you make the pecan filling.
Pecan Filling: Place the eggs in a large bowl, and whisk until lightly beaten. Then whisk, or stir, in the brown sugar, melted butter, vanilla, and salt until well combined. Spoon or pour about 1 tablespoon of the filling into each of the pastry-lined muffin tins (you want the pastry cups to be about 2/3 full). Sprinkle some coarsely chopped pecans into each muffin cup.
Bake in the preheated oven for about 16-20 minutes, or until the pastry is brown around the edges and the filling is just set, but still a little soft in the center. Remove from oven and place on a wire rack to cool for about five minutes before removing the Pecan Tassies to finish cooling on a wire rack. Pecan Tassies can be frozen.
Makes about 48 miniature Pecan Tassies.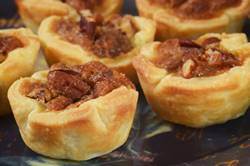 Cream Cheese Pastry:
1 cup (225 grams) unsalted butter, at room temperature
6 ounces (170 grams) regular (full fat) cream cheese, at room temperature
2 tablespoons (25 grams) granulated white sugar (optional)
2 cups (260 grams) all-purpose flour
1/4 teaspoon (1 gram) salt
Pecan Filling:
3 large eggs (150 grams out of shell), at room temperature
1 to 1 1/2 cups (200 - 300 grams) firmly packed light brown sugar
4 tablespoons (55 grams) unsalted butter, melted and cooled to room temperature
1 1/2 teaspoons (6 grams) pure vanilla extract
1/4 teaspoon (1 gram) salt
1 1/2 cups (150 grams) coarsely chopped pecans