Pecan Squares: Preheat oven to 350 degrees F (180 degrees C) and place the rack in the center of the oven. Butter, or spray with a non stick cooking spray, a 9 x 9 inch (23 x 23 cm) square baking pan.
Crust: In a small bowl, whisk or sift together the flour, baking powder, and salt.
In your electric mixer, or with a hand mixer, beat the butter and brown sugar until soft and fluffy (about 2 - 3 minutes). Beat in the vanilla extract. Then beat in the flour mixture until the mixture resembles coarse meal (do not over beat). Stir in the finely chopped pecans. (This mixture will be like crumbs.) Press the mixture into the prepared pan and bake for about 10 minutes or until very lightly browned. Remove from oven and place on a wire rack to cool while you make the filling.
Pecan Filling: In a large bowl whisk or beat the eggs until foamy. Add the brown sugar, corn syrup, flour, salt, and vanilla extract and whisk until combined. Pour over the baked crust and then sprinkle with the chopped pecans. Bake for about 25 - 30 minutes or until firm and nicely browned. Let cool in the pan and then cut into squares. Store at room temperature or in the refrigerator
Makes about 36 - 1 1/2 inch (3.75 cm) squares.
Adapted From:
Kimball, Christopher. 'The Dessert Bible'. Little Brown and Company. New York: 2000.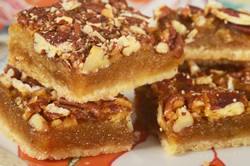 Crust:
1 cup (130 grams) all purpose flour
1/4 teaspoon baking powder
1/4 teaspoon salt
4 tablespoons (57 grams) unsalted butter, room temperature
1/2 teaspoon pure vanilla extract
1/3 cup (70 grams) light brown sugar
1/4 cup (25 grams) finely chopped pecans
Pecan Filling:
2 large eggs
1/4 cup (55 grams) light brown sugar
3/4 cup (180 ml) dark corn syrup (or golden syrup)
2 tablespoons (20 grams) all purpose flour
1/4 teaspoon salt
1 teaspoon pure vanilla extract
3/4 cup (75 grams) chopped pecans