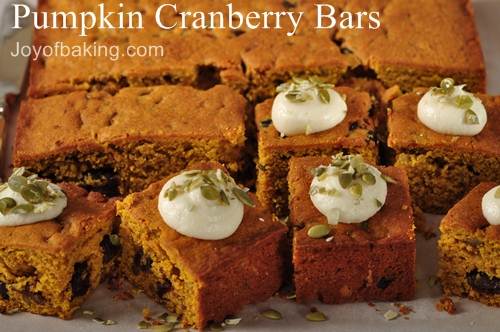 You have come to the right place if you are looking for a great Fall dessert. These Pumpkin Cranberry Bars take pumpkin puree, pecans, and dried cranberries and add them to a buttery cake batter that is scented with ground cinnamon, ginger, and allspice. The end result is a pan of Pumpkin Cranberry Squares that begs to be cut into large chunks and served with a steaming cup of coffee or tea.
But first let me give you a little information on the pumpkin; a spherical-shaped, usually orange, winter squash belonging to the gourd family. It has a flat top and base, hard fluted shell, and thick ridged stem which encases a yellow-orange flesh that has a mild sweet flavor with a dense fibrous texture. We could take a whole pumpkin, cut it in half lengthwise, remove the seeds and stringy fibers, and bake it in a moderate oven until its flesh can be easily pierced with a knife. Or, for convenience sake, we could just open a can of pumpkin puree as it is one of the few processed products that is almost as good as fresh. But make sure to buy 'plain' pumpkin puree, not the pumpkin pie filling which has the spices already added. And since we will not be using a whole can, leftovers can be stored in the refrigerator for up to a week or else frozen for up to six months. Along with the pumpkin, we also use pecans and dried cranberries in this recipe. Pecans are uniquely American, so if you live outside North America they may be hard to find. An excellent alternative is the walnut as these two nuts are closely related. Toasting the pecans (or walnuts) before adding them to the batter brings out their lovely buttery sweet flavor. The final addition is dried cranberries. The benefits of using dried cranberries over fresh is that they are available year round and have a really nice soft texture and tart yet sweet flavor. When buying dried cranberries look for berries that are plump, moist, with that bright ruby red color. Never buy dried fruit that is dried out or moldy.
While these bars are excellent plain, I couldn't resist topping them with a mascarpone whipped cream. Mascarpone cheese is a soft unripened cheese that belongs to the cream cheese family. It is a thick, rich, sweet and velvety, ivory-colored cheese produced from cow's milk that has the texture of clotted or sour cream. Its delicate and mild flavor is great with fresh fruit and is probably best known for its use in Tiramisu. It is sold in plastic tubs and can be found in specialty food stores and in the deli section of some grocery stores. If you cannot find it, just substitute it with regular cream cheese. The mascarpone cheese is whipped with some heavy whipping cream, and a little sugar for taste and you end up with a very nice cream to accompany this dessert.