Cinnamon Roll Scones: Preheat oven to 400 degrees F (200 degrees C) and place oven rack in the middle of the oven. Butter or line a baking sheet with parchment paper.
In a large bowl, whisk together the flour, sugar, baking powder, baking soda, and salt. Cut the butter into small pieces and blend into the flour mixture with a pastry blender or two knives. (The mixture should look like coarse crumbs.) Add the buttermilk to the flour mixture and mix just until the dough comes together. (Do not over mix.)
Transfer the dough to a lightly floured surface and knead the dough gently and then roll into an 8 x 11 inch (20 x 28 cm) rectangle. Spread the softened butter over the dough. Sprinkle with the raisins, if using. In a small bowl stir together the brown sugar and cinnamon and sprinkle it evenly over the butter. Gently press the mixture into the dough and brush one edge of the 11 inch (28 cm) side of the dough with a little milk or cream (to seal the edges of the rolls). Roll the dough to form a log, starting at the end opposite the edge you brushed with milk or cream. (Do not roll the dough too tightly or the centers of the rolls will pop up during baking.) Slice the log into eight equal-sized pieces and place on the baking sheet. Brush the tops of the scones with a little milk or cream.
Bake for about 17-20 minutes or until a toothpick inserted in the middle of a scone comes out clean. Remove from oven and place on a wire rack to cool slightly. Best served warm from the oven, but they can be covered and stored at room temperature for a few days.
Makes 8 Cinnamon Roll Scones.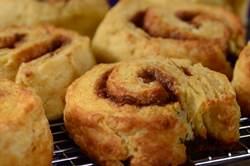 Cinnamon Roll Scones:
2 cups (260 grams) all purpose flour
1 tablespoon (15 grams) granulated white sugar
1 teaspoon (5 grams) baking powder
1/2 teaspoon (2.5 grams) baking soda
1/4 teaspoon salt
6 tablespoons (85 grams) cold unsalted butter, cut into pieces
3/4 - 1 cup (180 - 240 ml) buttermilk
Filling:
2 tablespoons (30 grams) unsalted butter, softened
1/3 cup (45 grams) currants or raisins (optional)
1/3 cup (70 grams) firmly packed light brown sugar
1 teaspoon (3 grams) ground cinnamon