Chocolate Apple Cake: Preheat your oven to 350 degrees F (180 degrees C) and place the oven rack in the center of the oven. Butter, or spray with a non stick vegetable spray, a 9 x 13 x 2 inch (23 x 33 x 5 cm) baking pan.
In a large bowl, whisk or stir together the flour, unsweetened cocoa powder, baking powder, baking soda, and salt.
In another large bowl, whisk the eggs until frothy. Then whisk in the sugar, melted butter, buttermilk, and vanilla extract. Add the wet ingredients to the dry ingredients and stir, or whisk, until combined. Stir in the shredded apple and chocolate chips. Evenly spread the batter into the prepared pan and bake for about 30 minutes or until a wooden toothpick inserted into the center of the cake comes out clean.
Remove from oven and let cool on a wire rack. While you can serve this cake the day it is baked, the flavor and texture of the cake improves when stored overnight.
Serve plain, with whipped cream, or vanilla ice cream.
Serves about 12 people.
View comments on this recipe on YouTube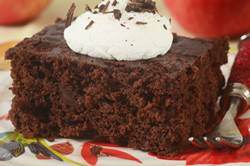 Chocolate Apple Cake:
2 cups (260 grams) all-purpose flour
3/4 cup (75 grams) unsweetened cocoa powder (preferably Dutch-processed (alkalized))
2 teaspoons (8 grams) baking powder
3/4 teaspoon (3 grams) baking soda
1/2 teaspoon (2 grams) salt
2 large eggs (100 grams), at room temperature
1 1/2 cups (300 grams) granulated white sugar
1/2 cup (113 grams) unsalted butter, melted and cooled to room temperature
1 cup (240 ml/grams) buttermilk, at room temperature
2 teaspoons (8 grams) pure vanilla extract
2 cups (270 grams) peeled, cored, and shredded apple (you will need about 1 pound/ 450 grams of apples) (about 2 large)
3/4 cup (125 grams) semisweet or bittersweet chocolate chips