Shortbread Crust: Lightly butter, or lightly spray with a nonstick vegetable cooking spray, an 8 or 9 inch (20 or 23 cm) tart pan with a removable bottom.
In your food processor, place the flour, sugar, and salt and process to combine. Add the butter and pulse until the pastry starts to come together and form clumps (you don't want a solid ball of pastry). Place the pastry in the prepared pan and, using your fingertips, evenly press the pastry onto the bottom and up the sides of the pan. (Can use the back of a spoon to smooth the surface of the pastry.) Gently pierce the bottom of the crust with the tines of a fork. (This will prevent the pastry crust from puffing up while it bakes.) Cover and place the pastry crust in the freezer for about 15 minutes to chill. (This will help prevent the crust from shrinking while it bakes.)
Meanwhile preheat your oven to 425 degrees F (220 degrees C) and place rack in center of oven.
Place your tart pan on a larger baking sheet and bake until the crust is golden brown, about 13 - 15 minutes; Remove from oven and place on a wire rack to cool completely.
Cream Filling: In the bowl of your electric mixer, fitted with the whisk attachment (or with a hand mixer or wire whisk) beat the mascarpone cheese, heavy whipping cream, sugar and vanilla extract just until soft peaks form. Spread the filling in the baked and cooled tart shell, smoothing the top with the back of a spoon or with an offset spatula. Place in the refrigerator to chill for at least an hour.
Blackberry Topping: In a saucepan, place the blackberries and the jam. Place over medium heat and, stirring occasionally, bring just to a boil. Reduce heat to medium low and cook until the blackberries just start to release their juices (about 3 - 5 minutes). Remove from heat and stir in the lemon juice. Place in a covered container and refrigerate until chilled. The Blackberry Topping can be made several days ahead and stored in the refrigerator.
To Serve: You can spread the chilled Blackberry Topping over the Cream Filling, or you can serve the Blackberry Topping on the side.
Serves about 8 people.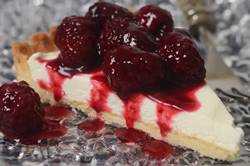 Shortbread Crust:
1 cup (130 grams) all purpose flour
1/3 cup (35 grams) confectioners (powdered or icing) sugar
1/4 teaspoon (1 gram) salt
1/2 cup (113 grams) cold unsalted butter, cut into pieces
Cream Filling:
1/2 cup (4 ounces) (115 grams) mascarpone cheese (can also use full fat cream cheese)
1/2 cup (120 ml) cold heavy whipping cream (cream with a 35-40% butterfat content)
3 tablespoons (25 grams) confectioners' (icing or powdered) sugar, or to taste
1/2 teaspoon (2 grams) pure vanilla extract
Blackberry Topping:
12 ounces (340 grams) fresh blackberries
1/4 cup (60 ml) blackberry, red currant, or raspberry jam
1/2 teaspoon freshly squeezed lemon juice or Limencello (optional)