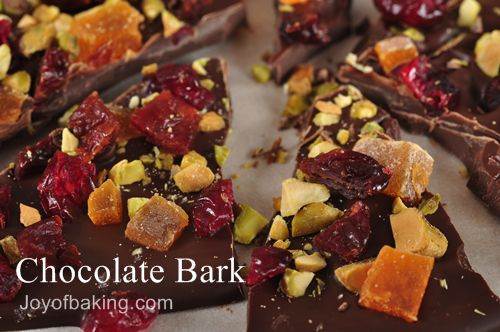 Christmas and chocolate go so well together. Growing up we always had a tin of Quality Street chocolates on hand as well as those delicious tasting Chocolate Turtles. These days, however, I like to make my own chocolate candy, and this Chocolate Bark has become a favorite. I make it with my favorite brand of chocolate and I love its jagged pieces studded with an assortment of dried fruit and nuts. It makes a tasty snack and I also like to serve it after a meal with those easy-to-peel Clementine oranges.
When I make Chocolate Bark I like to temper the chocolate so the bark will be nice and shiny, dry to the touch, with a hard and brittle surface which "snaps" when you break it. The method I give here for tempering involves just two steps, slowly melting the chocolate and then cooling the chocolate. If you do not want to temper then simply melt the full one pound (454 grams) of semi sweet chocolate with 1 teaspoon of shortening, a flavorless oil, or butter in a heatproof bowl placed over a saucepan of simmering water. Once melted, remove from heat and spread into a 10-12 inch (25-30 cm) circle on a parchment lined baking sheet. But if you decide to temper, Step One is to melt about 11 ounces (300 grams) of good quality, finely chopped semi sweet or bittersweet chocolate in a clean and dry heatproof bowl placed over a saucepan of barely simmering water. Stir frequently so the chocolate will melt slowly and evenly, and then remove from heat. Wipe the bottom and sides of the bowl to remove any moisture that may have formed. Step Two is to cool the chocolate. This is done by stirring the remaining 5 ounces (155 grams) of finely chopped chocolate (in three batches) into the melted chocolate. Make sure that each batch of chocolate is thoroughly melted before adding the next batch. Use a rubber spatula and be patient as this will take a little time. As the chocolate cools it will start to thicken and lighten in color. You know the chocolate has reached the proper temperature by measuring with a chocolate thermometer 88 - 91 degrees F (31 - 33 degrees C) or you can place a small dab of melted chocolate on your lower lip and it should feel about body temperature (not too warm or too cool). If the melted chocolate is too warm, add a little more finely chopped chocolate. If the melted chocolate is too cool, warm for just a few seconds in a heatproof bowl placed over a saucepan of simmering water. It can now be spread into a 10-12 inch (25-30 cm) circle on a parchment lined baking sheet.
If you have spent any time on the site you know I often talk about how the brand of chocolate you use will affect the flavor of what you are making. This is particularly important here so, as always, choose your chocolate carefully. There are many good brands of dark semi sweet and bittersweet chocolate on the market, both foreign and domestic. Some of my favorite brands of dark chocolate are: Guittard, Lindt, Scharffen Berger, Dagoba, Theo, and Valrhona. There are so many dried fruits you could use to decorate this bark. For Christmas I like to use dried cranberries and papaya, but cherries, apricots, prunes, figs, dates, coconut, and strawberries are also excellent choices. Now, dried fruits have come a long way in recent years in both availability and quality but there are a few things to keep in mind when choosing your fruit. First, try to buy in bulk from a grocery store or natural food store that has a high turnover. Not only will the fruit be fresher, but you can see, smell, feel, and often taste the fruit to make sure it is fresh and of high quality. Pre-packaged fruit can also be excellent but it is harder to tell the quality of the fruit through the plastic bag. Make sure to check the expiration date on the bag. Always look for dried fruit that is plump, moist, and has good color. Never buy fruit that is dried out or moldy. There is a debate about whether to buy 'sulphured' or 'unsulphured' dried fruits. Some like to buy 'sulphured' which means that it has been treated with a sulphur dioxide solution. This preserves the fruit's bright color and makes the fruit very soft and moist. The downside is that some people can taste the preservative while others are allergic. Of course, 'unsulphured' means it has not been treated before it is dried and some say the flavor of untreated dried fruits is far superior. The downside is that the fruit's color may be slightly faded looking, especially dried fruits (like apples, pears, and bananas) that oxidize quickly.