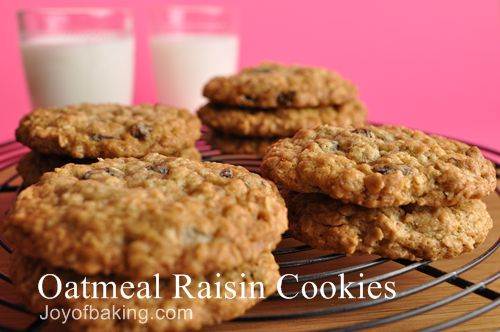 Oatmeal Raisin Cookies are hard to beat. Their edges are crisp, their flavor is sweet, and their texture is wonderfully soft and chewy. They are great for breakfast, or as a snack, or crumbled in a trifle, layered with yogurt and fresh fruit. While plump and juicy raisins seem to be the favorite in these cookies, you could use dried cherries or cranberries during the holiday season, or you can add some chopped nuts or even milk or dark chocolate chips.
Jean Anderson in her book The American Century Cookbook tells us that the first recipe she found for Oatmeal Cookies was in the 1896 Boston Cooking-School Cook Book. That recipe, although called an Oatmeal Cookie, only contained 1/2 cup of rolled oats. During the Second World War, The Quaker Oats Company published a recipe for Oatmeal Cookies that called for shortening, as butter was in short supply. Today we like our cookies nice and buttery, so butter has come to replace the shortening. And we also like our Oatmeal Cookies bursting with rolled oats, so for this recipe we are using a whooping three cups. I like to use old-fashioned not quick-cooking rolled oats. I prefer their flavor and thickness. While both may start with oats that are cleaned, toasted, and hulled to become what we call oat groats, the difference between the two is in the thickness of the oats after the oat groats have been steamed and flattened.
The pairing of Oatmeal Cookies with raisins is perfect. Although I like to use dark raisins in these cookies you could also use golden raisins. Both dark and golden raisins are simply dried Thompson seedless grapes. The difference is that dark raisins are sun dried which gives them that dark shriveled appearance, whereas golden raisins are treated with sulfur dioxide first to prevent them from turning dark and then air dried to keep them a golden yellow color. Raisins, like dates, have a high sugar content, and are a good source of vitamins and iron. Because of their high sugar content they retain moisture which keeps these cookies soft for several days.