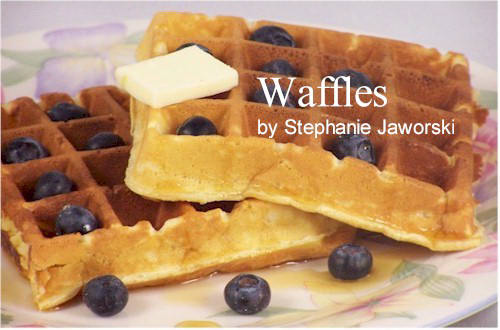 Homemade waffles were not a part of my youth. It wasn't until my sons bought me a waffle iron one Mother's Day that I started to make them at home. Waffles are really easy to make and the batter uses the most basic of ingredients, flour, sugar, baking powder, salt, an egg, milk, and butter. It is almost the same as a pancake batter. In fact, the only real difference between the two is how they look; whereas pancakes are round and are baked on a griddle or frying pan, waffles are either square or heart-shaped with a honeycomb surface that are baked in their own machine. I will say that waffles are thicker, more bread-like, and crisper and their grids do make ideal pockets for the maple syrup and butter..
You have the choice of buying either an electric or stovetop Waffle

iron and both consist of two metal grids, facing each other, that are held together with hinges. To make a waffle you pour the batter onto one side of the iron, the second metal grid is then closed over the batter and the waffle is cooked until crisp and golden brown. (It is always a good idea to read your manufacturer's instructions before using your waffle iron as there can be differences between models.) Of course, waffles are perfect with a pat of butter and drizzling of maple syrup but they are also excellent with whipped cream and fresh berries.