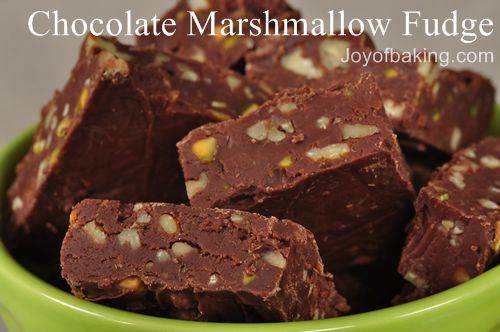 I love chocolate fudge, and over the years I have collected quite a few recipes. One favorite is this smooth and creamy Chocolate Marshmallow Fudge, also known as Fantasy Fudge. This fudge is different than old fashioned chocolate fudge which is made from a mixture of sugar, butter, and cream that is cooked to the soft ball stage, cooled, and then beaten until creamy. This Chocolate Marshmallow Fudge simply involves boiling evaporated milk, butter, sugar, and marshmallow cream for just five minutes (a candy thermometer is not necessary) and then stirring in some dark chocolate, vanilla, and chopped nuts. It is easy, virtually foolproof, and delicious.
A few notes on the ingredients used to make this Chocolate Marshmallow Fudge. Evaporated milk is sold in cans and is just unsweetened homogenized milk which has sixty percent of its water removed. Marshmallow Cream or Fluff is a thick, soft and fluffy, very sweet marshmallow flavored mixture that is made from corn syrup, sugar syrup, dried egg whites, and vanillin. It can be found in most grocery stores and is sold in either jars or tubs. Always check the expiry date. When marshmallow cream in used in fudge making, it coats the sugar crystals keeping them nice and small (preventing sugar crystallization and a grainy textured fudge) so you end up with a creamy smooth fudge. Also, while the recipe calls for semi sweet chocolate chips, you could substitute the chocolate chips with your favorite semi sweet or bittersweet chocolate.
This Chocolate Marshmallow Fudge would be ideal for gift giving, with the added bonus that it can be frozen.