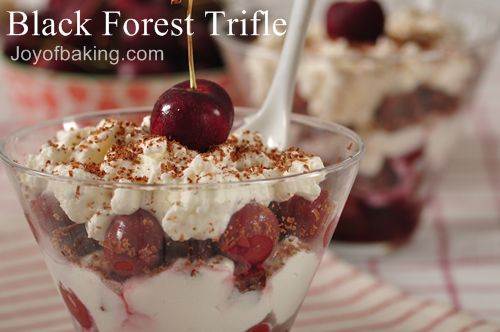 A Black Forest Trifle has the same components as a Black Forest Cake (Gateau); that is, chocolate, cherries, kirsch liqueur or kirschwasser, and whipped cream. As its name implies, Black Forest Cake comes from the Black Forest region of Germany. The first written recipe for this very popular cake appeared in 1934, and there are many theories as to its origin. Heston Blumenthal in his book "In Search of Perfection" gives an excellent account of its history. He tells us that some believe its name 'Schwarzwalder Kirsch Torte' is a tribute to the kirsch (cherry distillate) flavor that is prominent in this dessert. (Kirsch is made in over 14,000 distilleries in the region.) Others say that the chocolate shavings that garnish the cake remind people of the thick trees that grow in the Black Forest. The cake's origin, itself, also has a few stories. It could have originated from a dessert that was made in the region that combined cream, cherries, and kirsch, although it was not a cake. Some say the chocolate part of the cake originated in another part of Germany (Bad Godesburg). There is also a story that a Dutchman who settled in the region invented the cake. Although we may never know its true origin, everyone will agree that this cake is delicious.
For this recipe we are making a Black Forest Trifle, not a cake, and it has also been Americanized in that we use chocolate brownies instead of the usual chocolate sponge. (I got this idea from a recipe in BBC's April 2008 Good Food Magazine.) Now, the cherries used to make this trifle are sour cherries, not sweet. I like to use the bottled dark mahogany red colored Morello Cherries that are packed in light syrup. Two stores that sell them are Trader Joe's and Whole Foods. If you cannot find them, just use the canned sour cherries that are packed in water. You may, however, need to add a little more sugar as they are more tart tasting than cherries that are packed in light syrup.
To make these trifles, we need to first make the brownies and then cut them into bite sized pieces. Of course, if time doesn't allow you to make the brownies, you could use store bought. The Morello Cherries need to be drained and then we need to flavor the syrup with Kirsch and sweetened it with sugar. This mixture is cooked until it has thickened and then the cherries are added back to the syrup. The heavy cream also needs to be whipped with a little sugar and vanilla extract. As with all trifles you can make them as big as you please. For me, two brownies, along with the cherries and cream, seems like the perfect size. So, place one brownie, cut into pieces, in the bottom of your serving glass. Then place a good spoonful of the cherries, along with some cherry juice, on top of the brownies. Place a large dollop of the whipped cream on top of the cherries. Repeat the layers, starting with the brownies. Garnish with shaved chocolate. As with all trifles, these do benefit from being refrigerated for at least 4 hours and up to 24 hours to allow the flavors to mingle.