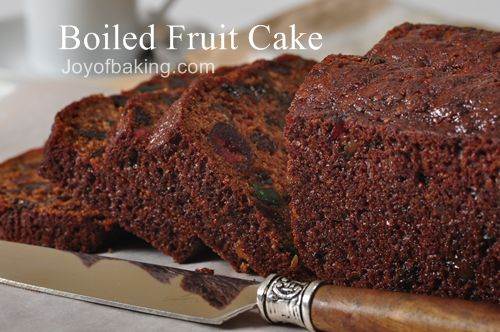 The British fruit cake is traditionally served during the Christmas season. It is full of dried fruits and nuts, laced with alcohol (usually brandy), and covered with marzipan and royal icing. The problem with making a regular fruit cake is that it is quite labor intensive to make and it needs time to age so it has to be made well in advance of Christmas. Luckily, there is a much simpler version of this cake for the last minute baker, and it is called a Boiled Fruit Cake (also known as a War Cake or Bachelor's Cake). It still tastes delicious and uses all the necessary fruit cake ingredients, like candied fruits, dried fruits and spices, but it is easy to make and can be eaten almost right away. This is one cake that is so good that it begs to be made all year, not just during the Christmas season.
A Boiled Fruit Cake does not contain alcohol and yet its' texture is still moist. Now, as the name "Boiled" implies, the brown sugar, water, butter, spices, and the dried fruit are, in fact, "boiled". Once this boiled mixture has been left to cool, the next step is to stir in the lightly beaten eggs, baking soda, flour, vanilla extract, and candied fruit. And that's it. Just pour the batter into the pan and bake. Now, if possible, do try to resist eating this cake right away. Although it does not need weeks to age, it does benefit from being stored, at least a day or two.
A few things about this recipe are worth mentioning. I have used just raisins, but you can use a combination of raisins, dried cranberries, and dried cherries. Spices can also be adjusted to your taste, adding more or less of each. Finally, if you are an avid fan of fruit cakes and want to make them during the rest of the year, it might be a good idea to pick up extra candied fruit during the holiday season as it is very hard to find during the rest of the year.