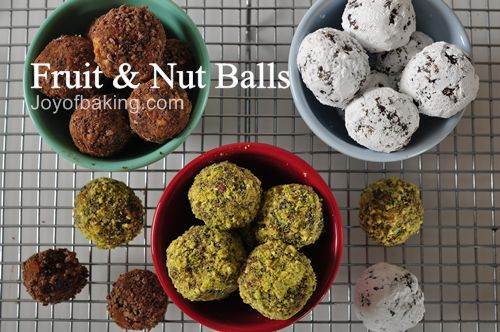 A tray of petit fours should surprise and delight and for that to happen we need variety; an assortment of different flavors and textures. While chocolate truffles, little shortbread tarts filled with cream, meringue mushrooms, and chocolate dipped strawberries are perfect choices; the health conscious will appreciate these beautiful Fruit and Nut Balls.
Fruit and Nut Balls are also known as Sugarplums. They are unusual in that they are made with a selection of nuts and dried fruits, held together with a splash of Grand Marnier or orange juice. They are delicious, they are healthy, and they are just about the easiest thing to make. A quick whirl in the food processor is all that is needed. They store well (about a month in the refrigerator), and while perfect for that tray of petit fours, they are good to take along on picnics or hikes when you need a quick boost of energy.
Today we are fortunate to have a wide selection of dried fruits to choose from. Where once we were limited to dates and raisins, it now seems that every fruit imaginable is available dried. The quality of these fruits is also excellent which makes for delicious Fruit and Nut Balls. When you look at this recipe, don't think it is cast in stone. Use it as a template only. You can vary both the type and amounts of dried fruits. While I have used dried dates, figs, cherries, and apricots, you can just as easily use other dried fruits like prunes, raisins, cranberries, and even dried coconut. But there are a few things to keep in mind when choosing your dried fruit. First, try to buy in bulk from a grocery store or natural food store that has a high turnover. Not only will the fruit be fresher, but you can see, smell, feel, and often taste the fruit to make sure it is fresh and of high quality. Pre-packaged fruit can also be excellent but it is harder to tell the quality of the fruit through the plastic bag. Make sure to check the expiration date on the bag. Always look for dried fruit that is plump, moist, and has good color. Never buy fruit that is dried out or moldy. There is a debate about whether to buy 'sulphured' or 'unsulphured' dried fruits. Some like to buy 'sulphured' which means that it has been treated with a sulphur dioxide solution. This preserves the fruit's bright color and makes the fruit very soft and moist. The downside is that some people can taste the preservative while others are allergic. Of course, 'unsulphured' means it has not been treated before it is dried and some say the flavor of untreated dried fruits is far superior. The downside is that the fruit's color may be slightly faded looking, especially dried fruits (like apples, pears, and bananas) that oxidize quickly.
The choice and amounts of nuts in this recipe can also be varied, just as with the dried fruits. I have chosen pecans and walnuts as their flavors are complementary, but other nuts like almonds, hazelnuts, pistachios, brazil nuts, and even pine nuts would be good as well. Just remember that since nuts are quite high in fat it is best to store them in the freezer if you are not using them right away.