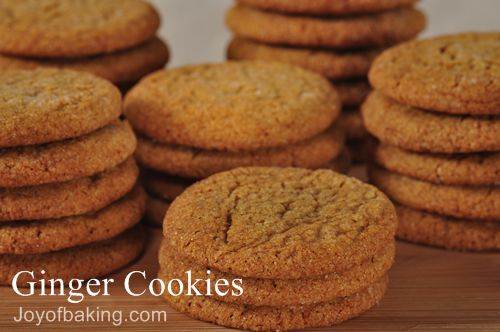 Ginger Cookies are aptly named, as they are both ginger colored and ginger flavored. They have a sugar coated crackly surface, and when you bite into one you will find the texture soft and chewy with a flavor that is buttery and spicy. The combination of molasses with ground cinnamon, ground ginger, and cloves makes eating one just about impossible.
Gingersnaps, Molasses, and Gingerbread Cookies all belong to the same group as Ginger Cookies. The batter for Ginger Cookies needs to be chilled so it can be easily formed into rounds and then rolled in either granulated white sugar or white sugar crystals. The balls of dough are then flattened slightly and baked just until firm around the edges yet the centers of the cookies should still be a little soft. The longer you bake these cookies the more crisp and crunchy they will be.
Although I think these Ginger Cookies have just the right amount of ginger flavor, especially for kids, adults may want an extra punch of ginger. This can be done by adding finely chopped crystallized ginger. Just add it to the batter along with the flour. And before I forget, keep in mind that ground spices have a fairly short shelf life so it is best to buy in small quantities from a bulk food store that has a high turnover. The added advantage of buying them in bulk form is that they are a lot cheaper than buying those small glass bottles from your local grocery store. Make sure to store your spices in a cool dry place, away from heat (it is not a good idea to store them by the stove).
Finally, there are two types of molasses generally used in baking; light and dark. While I have used light molasses in this recipe, if you want a cookie with a more robust flavor, try using dark molasses. Light molasses comes from the first boiling of the sugar syrup and is lighter in flavor and color than the dark molasses which comes from the second boiling. Molasses is usually labeled as "sulphured" or "unsulphured" depending on whether sulphur was used in the processing. I prefer the unsulphured molasses which is lighter in color and tends to have a nicer flavor. By the way, molasses is used in baked goods, not only for flavor, but also for color and moistness. It is a good idea to lightly spray your measuring cup with a nonstick vegetable spray before pouring in the molasses. This prevents the molasses from sticking to the cup.
This recipes is adapted from Canadian Susan Mendelson's book The Lazy Gourmet. Not only does Susan Mendelson write cookbooks, but she also runs a popular catering company in Vancouver, British Columbia called 'The Lazy Gourmet'. The other recipe on the site adapted from The Lazy Gourmet cookbook is these delicious Chocolate Coconut Macaroons.