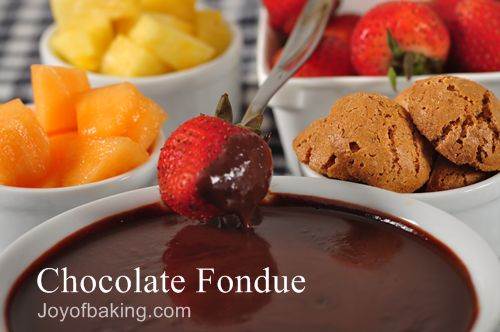 A Chocolate Fondue is a leisurely way to end a meal as everyone gathers around a pot of warm chocolate sauce and dips skewered pieces of fruit, cake, and/or cookies into the sauce. Stemmed cherries are particularly well suited for dipping as are strawberries, pieces of cantaloupe, figs, honeydew, kiwi, pineapple, bananas, pears, oranges, and even slices of apple. Chunks of pound cake are lovely when smothered in a warm chocolate sauce, as are butter cake, angel food, or even sponge cake. It is also nice to have some cookies available - like amaretti, ladyfingers, rolled wafer cookies, and even chunks of biscotti.
Of course, the main focus of a Chocolate Fondue is the chocolate sauce. This rich and creamy sauce is made with high quality semisweet or bittersweet chocolate, cream, a little sugar, corn syrup, pure vanilla extract, and maybe some Nutella and/or your favorite liqueur. Try to use a good quality semi sweet or even bittersweet chocolate that you enjoy eating out of hand. Some of my favorites are Scharffen Berger, Guittard, and Callebaut, and Valrhona. Now, while a small fondue pot looks lovely, it isn't necessary. You can just heat the sauce beforehand in a small saucepan and then transfer it to a pretty bowl. Reheat the sauce as necessary.
John Mariani in his "Dictionary of American Food and Drink" tells us that the fondue is of Swiss origin and was first made with melted Gruyere or Emmenthaler cheese and white wine, which explains why the word "fondue" which comes from the French verb "fondre" meaning "to melt", was given to this dish. Now, it did take a bit of time for the fondue to make its way to North America, but when it did arrive (the 1950s) it was a success. So successful, in fact, that Konrad Egli of the Chalet Swiss Restaurant in New York invented the Chocolate Fondue in the early 1960s as a way to get his diet conscious customers to buy dessert.