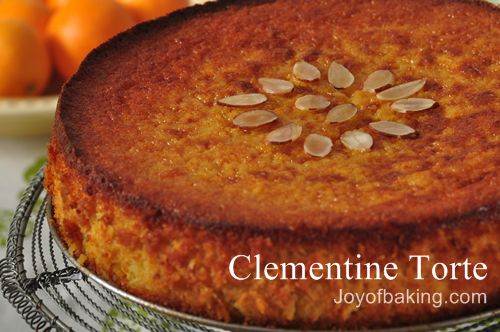 Around the turn of the 20th century a French Priest, named Pere Clement, living in Algeria, crossed a bitter orange (Seville) with a Mandarin. The result was a sweet yet tangy, slightly flattened, easy to peel orange which became known as the Clementine. Clementines are often called the 'Christmas' orange, as its harvest time corresponds with the holiday season. They are most often eaten raw but I always try to put a few aside to make this Middle Eastern Clementine Torte which uses whole cooked Clementines, peel and all.
This Clementine Torte recipe is adapted from Stephanie Alexander's excellent 'The Cook's Companion' where she tells us that in Australia it is hard to find a cafe that doesn't serve this delicious cake. It is dense and moist, flavored with ground almonds, with a slightly tart flavor that comes from the orange peel. It does not contain butter or oil, only oranges, eggs, sugar, and ground almonds. Easily made in a food processor, it stores very well, in fact, it is better to bake this cake several days in advance of serving so its flavors have time to blend and soften.
As I mentioned above, this torte contains ground almonds. You can either buy almond meal/flour or else you can make your own by placing whole or sliced almonds in your food processor and processing them until finely ground. Almond meal/flour can be found at some grocery stores, specialty food stores/markets, or else at health food stores. You can also order it on line.