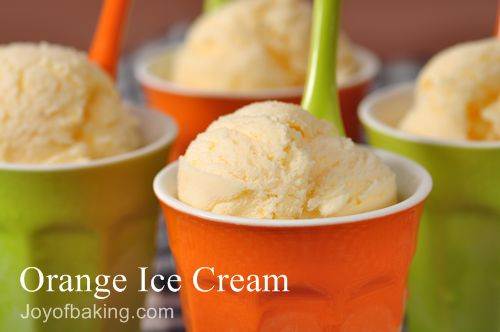 A hot summer's day begs for something cold. Oh, we could sip on a cold drink but nothing says 'Summer' like a bowl of homemade ice cream. I have the feeling that many people steer clear of making ice cream because it seems like too much work.
But this Orange Ice Cream is different as there is no 'cooking' involved; just mix all the ingredients together, chill in the refrigerator, and then process in your ice cream machine. Think of it as an "iced" cream, as that is how I would describe its lovely grainy texture (like a sherbet) that has a wonderful orange citrus flavor. It does not contain eggs, only cream, freshly squeezed orange and lemon juice, sugar and vanilla extract.
I adapted this recipe from Marjorie Kinnan Rawling's delightful book "Cross Creek Cookery". She describes making ice cream from fresh milk that "is yellow as buttercups" and "is so thick, when ladled off into a bowl or pitcher, that it is impossible to pour". I try to imagine how good an ice cream made with milk that fresh would taste, but since it will probably never happen, we will just have to content ourselves with making her recipe with the best quality cream and half-and-half that we can find. Any variety of sweet oranges can be used and you will notice I have added a little orange zest and lemon juice for extra flavor. This ice cream is lovely with fresh strawberries.
Cream is the fat that rises to the top of whole milk. It has a smooth, satiny texture and is labeled according to its butterfat content (heavy to light). When making this ice cream, use 'Heavy' Cream or Heavy 'Whipping' Cream which means it has a 36 - 40% butterfat that will double in volume when whipped and hold its form. Because of its superior flavor, I recommend using an organic brand of heavy whipping cream. The other cream used in this ice cream is Half and Half Cream, which is made of a mixture of cream and whole milk and contains between 10 - 18% butterfat.