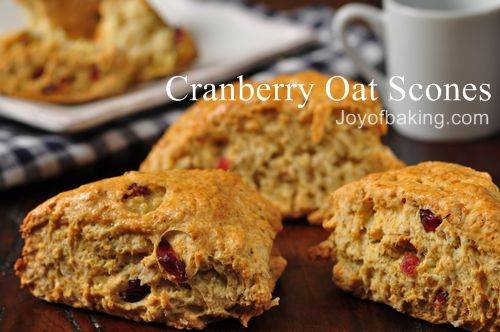 I love eating scones for breakfast, especially when they are warm from the oven. These Cranberry Oat Scones are perfect on chilly mornings, as their texture is hearty due to the addition of old fashioned rolled oats. There are no eggs in this scone recipe and instead of milk, I have used buttermilk, which gives the scones a more bread-like texture. Cranberry Oat Scones are also flavored with orange zest and dried cranberries, but you could use dried cherries, raisins, or currants are also very nice.
If you are not familiar with buttermilk, it has a nice thick creamy texture with a rich tangy buttery taste that makes baked goods tender. It is now commercially made by adding a bacteria to whole, skim, or low fat milk. However, in the past it was the liquid left over after churning butter. You can make your own by adding 1 tablespoon of white distilled vinegar, cider vinegar, or lemon juice to 1 cup of milk. Let stand 5 to 10 minutes before using. You can also use buttermilk powder.
Oats are a cereal grain that is rich and flavorful and comes in many forms. Very popular in Northern Europe, Scotland and Ireland. Oats to be consumed by humans are cleaned, toasted, hulled to become what we call oat groats. The oat groats are then steamed and flattened to become rolled oats or old-fashioned oats. They take about 15 minutes to cook. Old-fashioned rolled oats are not to be confused with quick-cooking rolled oats. These are oats have been cut into pieces before being steamed and rolled into thinner flakes. They cook quickly, about 5 minutes, but their flavor and texture are a little different than old-fashioned rolled oats.