Preheat oven to 375 degrees F (190 degrees C) and place rack in middle of oven. Line a cookie sheet with parchment paper.
In a large bowl, whisk together the flour, sugar, baking powder and salt. Cut the butter into small pieces and blend into the flour mixture with a pastry blender or two knives. The mixture should look like coarse crumbs. Stir in the lemon or orange zest. In a small measuring cup combine the whipping cream, beaten egg and vanilla. Add this mixture to the flour mixture. Stir until just combined. Do not over mix.
Transfer to a lightly floured surface and knead dough gently four or five times and then divide the dough in half. Pat or roll each half of the dough into a circle that is about 8 inches (20 cm) round. Spread the jam on one round of the dough and then place the second layer of dough on top of the jam, gently sealing the edges. Cut this circle in half, then cut each half into 4 pie-shaped wedges (triangles). Place the scones on the baking sheet. Make an egg wash of one well-beaten egg mixed with 1 tablespoon milk and brush the tops of the scones with this mixture. This helps to brown the tops of the scones during baking.
Bake for about 15 minutes or until lightly browned and a toothpick inserted into the center of a scone comes out clean. Remove from oven and then turn your broiler on high. Sift confectioners (powdered or icing) sugar heavily over the tops of the scones and place them under the broiler. Broil for just a few seconds, turning the pan as necessary, until the sugar has melted and turns golden brown. Make sure to watch the scones carefully as the sugar will burn very quickly. Transfer to a wire rack to cool. Before serving, garnish with a dollop of Devon cream or softly whipped cream.
These scones freeze very well.
Makes 8 scones.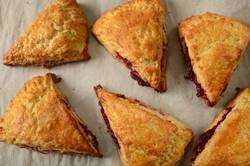 Recipe:
2 cups (280 grams) all-purpose flour
1/4 cup (50 grams) granulated white sugar
2 teaspoons (10 grams) baking powder
1/8 teaspoon salt
1/3 cup (76 grams) cold unsalted butter
Zest of 1 lemon or orange
1 large egg, lightly beaten
1 teaspoon pure vanilla extract
1/2 cup (120 ml) heavy whipping cream
1/4 cup jam or preserves
Egg mixture for brushing tops of scones:
1 large egg, lightly beaten
1 tablespoon heavy cream
Garnish:
Devon Cream or lightly whipped heavy cream