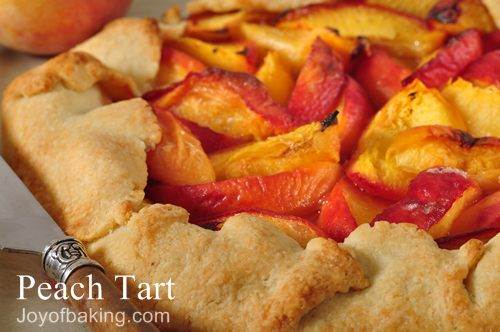 This Peach Tart is the perfect combination of buttery crisp pastry and sweet peaches. The peaches are not peeled for this rustic European dessert, they are just cut into wedges, lightly salted and sweetened with sugar, and placed on a platform of pastry. This tart looks lovely when pulled from the oven, with its pastry all brown and crisp, and the peaches all soft and sweet, with lightly caramelized edges. Excellent served warm with a small scoop of vanilla ice cream.
The pastry used for this peach tart is Pate Brisee, pronounced 'paht bree-ZAY' which is a French short crust pastry dough made from a mixture of flour, a little sugar, salt, butter, and ice water. It has a high ratio of fat to flour which gives the pastry its crisp and crumbly texture and buttery flavor. It is the perfect backdrop for fresh fruit at its prime. Since this peach tart is best served within an hour after it is baked, planning is needed. On the morning of the day I will be serving this tart, I like to make the pastry, chill it, and roll it into a large square. I then place the square of pastry on a parchment lined baking sheet and return it to the refrigerator. Since it takes anywhere from 35 to 45 minutes for this tart to bake, a couple of hours before I want to serve this peach tart, I cut the peaches into slices, adding both salt (to bring out and heighten the peach's flavor) and sugar (to sweeten the peaches), and arrange them on the pastry. Then I bake the tart. It looks wonderful when pulled from the oven. The pastry has become brown and crisp, and the peaches have released their juices and become soft with slightly caramelized edges. While at its best served within a few hours of baking, leftovers can be covered and refrigerated overnight.
Peaches are the focus of this tart, so we need to talk about this lovely fruit. There are two types of peaches, 'Clingstone' and 'Freestone', with many varieties within each classification. The names (Clingstone and Freestone) refer to how easily the flesh of the peach separates from its stone. The Clingstone (available in late spring/early summer), is exactly that, the flesh clings stubbornly to the central stone or pit. Freestones (available late summer) have a flesh that is easily separated from the stone. For this tart I prefer the Freestone variety (either white or yellow flesh), which makes cutting the peach into slices very easy. I do not peel the peaches as I think the skin looks nice and adds both texture and flavor. What is important is that the peach be of high quality. When buying peaches, smell and feel each peach. The peaches should smell of peaches and feel firm, yet have a slight give when you press gently on its shoulders. Make sure there are no bruises, cuts, or soft patches on the peaches. To read more on peaches click here. Other great peach recipes to try are: Peach Cobbler, Peach Pie, and Peach Galette.